BR 57xx Pannier Tank No.9682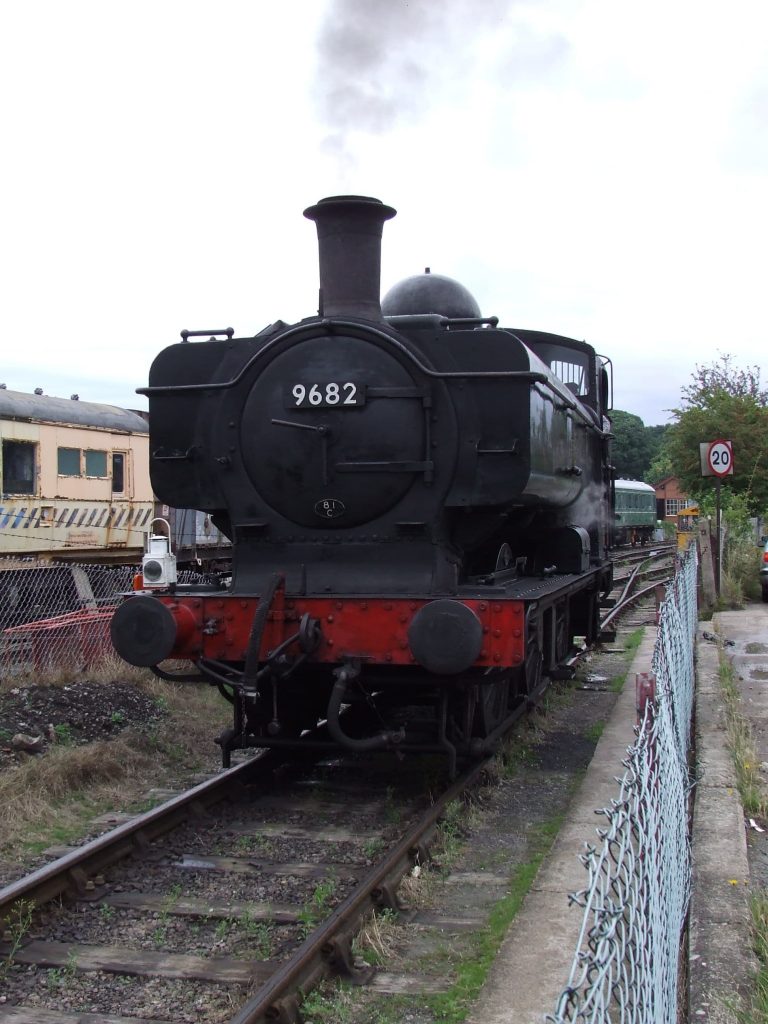 Brief History
January 1957 – Based at Tyseley
July 1960 – Based at Aberbeeg
December 1961 – Based at Tondu
November 1964 – Based at Cardiff East Dock
Withdrawn in August 1965 and stored at Barry from October 1965.
Full History including Preservation

9682 is the very last of the 863 strong 5700 Class of 0-6-0 PT locomotives to be
built. She was built at Swindon Works and out shopped on the 3rd May 1949 at a cost
of £5279 which included the boiler cost of £1325. It is reported that she took
approximately five weeks to build although as parts were manufactured in batches
and had longer lead times this maybe just the final fabrication and assembly time.
In operation with British Railways she was allocated to three sheds, predominately
Tyseley (1950-1960) then Aberbeeg (1960-64) and finally Cardiff Radyr (1964-65)
from where in August 1965 she was withdrawn after a mere sixteen years in service
and in October 1965 was sent to Woodhams Brothers scrapyard in Barry,
Glamorgan where she joined a long line of other locos awaiting their fate.
Up until 28th December 1963 when records ceased, she had travelled an estimated
242,035 miles and had five boilers fitted. However, this was not the end and like
many other locomotives left quietly rusting at Barry, she had more to give to future
generations. A month over seventeen years from when she arrived 9682 departed
Barry in November 1982 for the Great Western Preservation Group's base at
Southall having been purchased for the included VAT sum of £5175.
Work began on restoration to working order in 1996, initially at Southhall, followed by
a move to Swindon in 1997. She was steamed for the first time on 7th January 2000
and was inaugurated back into service by the Mayor of Swindon on 25th March 2000
at the Swindon & Cricklade Railway. She then moved to the Bodmin and Wentford
Railway where on 8 th June 2000 she headed a Royal Train carrying Her Majesty the
Queen and the Duke of Edinburgh.
She spent some time at the Mid Norfolk Railway and finally at the Chinnor and
Princes Risborough Railway being withdrawn in 2009 with boiler issues. She
returned to Southall and remained in a dismantled state until the DFLG were offered
the opportunity to purchase her. After some negotiations the sale, including a Toad
brake van was agreed with Mike Gorringe the acting chairman of the GWRPG when
he visited the DFR on October 20th , 2018 during the 90th birthday celebrations of the DFLG's small prairie No. 5541.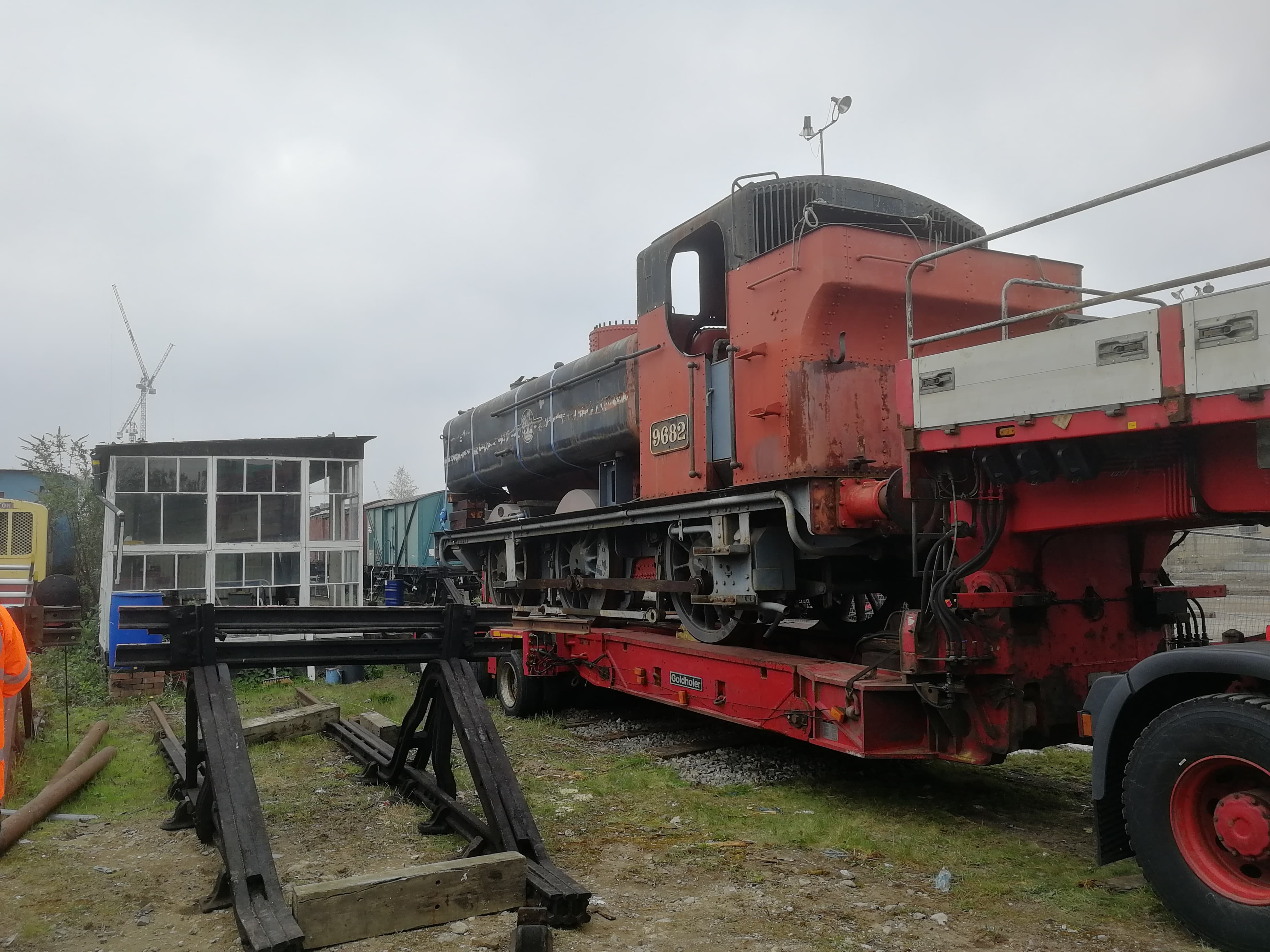 Photo of the loading at Southall – M.Thomas/C.Mansell
As soon as the purchase was agreed a team of members from both the DFLG and
GWRPG worked to ready 9682 for the move to the Dean Forest Railway. The main
components of Boiler, Tanks and Cab were re-united with the frames, and loose
items put into safe storage.
The Network Rail facility at Southall where 9682 resided had several organisations
operating on the site. Initially the DFLG expected to move 9682 and the brake van to
a convenient loading point used for previous stock movements. However, after many
weeks of negotiations this could not be achieved and other ways of exiting the site
were investigated. The main entrance to the Southall Railway Centre (GWRPG) yard
was severely restricted by a 'White Van' graveyard with perhaps as many as
hundred vehicles resting on blocks or abandoned after retrieval of all re-usable parts.
Luckily, at the eleventh-hour, fate intervened. The lease on the scrap yard was
relinquished and Network Rail having served a statuary notice contracted a specialist
company to remove all the detritus which include the dumped vans, shipping
containers and a considerable amount of fly tipping.
One final problem remained, the siding on which 9682 and Toad stood had a stop
block fitted. Permission from Network Rail was obtained on the proviso the block was
removed immediately before the move and re-instated straight after.
The DFLG's preferred haulage supplier Allely's Heavy Haul gave the Group a date of
Monday 8th April to remove the stop block and move 9682 and Tuesday 9th April to
move the Toad Brake Van and re-instate the stop block. The whole move required
the support of three DFLG teams, assisted by GWRPG members; Adam Williams
and Matt Sexton to remove Chair Bolts and Fishplates, Charlie Mansell and Mike
Thomas to supervise the craning of the stop block and loading of 9682, and finally
Adam Williams and Steve Vincent to supervise the loading of the Toad and re-
instatement of the Stop Block. By Wednesday 10th April 2019 both vehicles were
safely on DFR metals and with the final payments made, full ownership passed to
the DFLG.
After a fitness to run was carried out by the Railway's CME team, 9682 and Toad
made a memorable journey from Lydney Junction to Norchard steam hauled by the
DFLG's Small Prairie 5541 supported by a not in-significant number of well-wishers.
9682 now stands expectantly only a few feet from her sister 9681.
The DFLG intend to start restoration of 9682 after 9681 returns to operation, subject
to funds and replacement of the £35,000 of steam fittings which were
misappropriated during its final year at Southall. The DFLG now has the job of
sourcing or even manufacturing new fittings and to this end have launched a missing
parts appeal, details of which can be found here on the website.
With thanks to John Metherall for the text.