Please see latest news page for most recent updates.
Ex GWR Mink G ,W 112857 Goods Van built 1931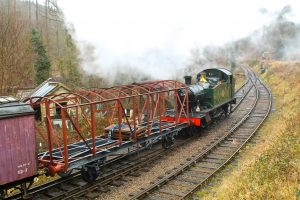 After the success of our Fruit D wagon, the DFLG are in the process of restoring a GWR Mink G. The idea is that the wagon will be used to store any parts used on the restoration of the DFLG's Collet coach
The Mink was kindly donated to the fund by Mr Bob Hawker, and work started immediately upon it's change of ownership. Progress so far has seen the wagon striped of anything that will come off, the wheels removed for a axle box overhaul and painting. The wagon was re-wheeled using the DFR's diesel crane, and then shunted into Norchard yard by our ex-GWR small prairie 5541.