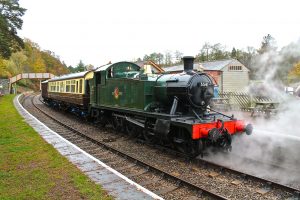 5541 is a 4575 class small Praire tank engine built by the Great Western Railway at Swindon works. The 4575 class were a popular engine on the GWR, they were versatile and well liked by crew. They were an improved version of the 45xx class engines, the main modification being the larger, sloped tanks and cast motion brackets.
5541 was built in 1928 as part of lot number 251. Her original boiler number was 5546. Between June and August of 1930 she was allotted to Swindon shed; however by September 1931 she had moved to Bristol (Bath Road) where she stayed until the middle of 1938. Between December 1935 and March 1936, she underwent general repairs at Caerphilly Works, where she received a new boiler (number 5526). At this time she had covered 237,985 miles.
During the summer of 1938, the engine moved to Machynlleth where she spent most of the rest of her working life. In the early months of 1945 she underwent general repairs at Swindon where a second new boiler (number 5519) was fitted; 482,639 miles now having been covered. Similarly, over Christmas of 1949 she underwent heavy general repairs at Swindon, necessitating another boiler (number 5505), after 616,385 miles. Another heavy general repair was carried out at Stafford Road, Wolverhampton in July/August 1958, after 839,123 miles. The new boiler fitted was number 3902. During 1960 she moved from Machynlleth to Laira, where she stayed until being made redundant on the 10th July 1962, after completing 921,589 miles.
She was sold to Messrs. Woodham Bros of Barry on the 4th September 1962 as part of Lot L03011/1. Various items had been removed from her between 1962 and 1971, but she had not been moved until being properly prepared for her move from the scrap yard out into the dispatch siding at Barry.
5541 was moved by rail to the Dean Forest Railway at Parkend from Barry, arriving on 10th October 1972 in time for the October Gala Day. Restoration was undertaken by Fund members on the siding behind the down platform at Parkend and was completed, and first steamed on 29th November 1975. On 16th January 1978 in light steam, she joined the movement of stock from Parkend to Norchard and was a regular performer on the short track constructed at the Steam Centre.
On 17 May 1983 she made an historic run over the A48 level crossing in Lydney town centre to collect a large train made up of wagons delivered to Lydney by British Rail. In 16 August 1985 she again went to Lydney Yard to collect the GWR150 exhibition coaches for a weekend display at Norchard.
Following another overhaul and boiler change at Norchard she returned to steam in August 1994. 5541 has made a number of visits to other preserved railways including Bodmin & Wenford, Llangollen, and the Gwili.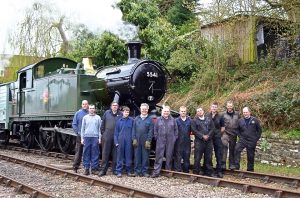 The loco boiler certificate expired early in 2004, and the loco undertook a major overhaul until it returned to service in April 2014. During the overhaul, its third on the Dean Forest Railway, the boiler was sent to the LNWR works at Crewe, and the rest of the loco was overhauled and is maintained at Norchard by our own dedicated crew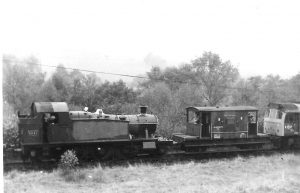 5541 nearing the end of its journey from Barry scrapyard passes Tufts hauled by Class 25 D7517 – Photo DFR Museum