It is some time since we last reported on progress on the "G" as it has become known. The sides and ends have been replanked except for the top ones which were promised for November 2019. At that time a late delivery was not a problem as there was plenty of other work to get on with, including making and fitting the doors. Each of the eight doors consist of five vertical planks on the outside secured to twelve horizontal ones on the inside, each of the internal planks being screwed to the external ones using 12 one and three quarter inch by number twelve woodscrews, that's 1152 holes to be drilled and screws to be fitted, thank goodness for electric screwdrivers! The doors are now made and fitted and make the van look complete, this is unfortunately not the case. We still have to fit the roof canvas, for this we need access all around the roof which is not possible since the van was moved to accommodate contractors working on none DFR related projects. We were hoping that with the onset of good weather we could do the job outside, however COVID 19 put paid to that. Until we can obtain the door heads we cannot fit the door furniture, and until the top planks are available, we cannot fit the fly screens and internal vent plates either, all very frustrating.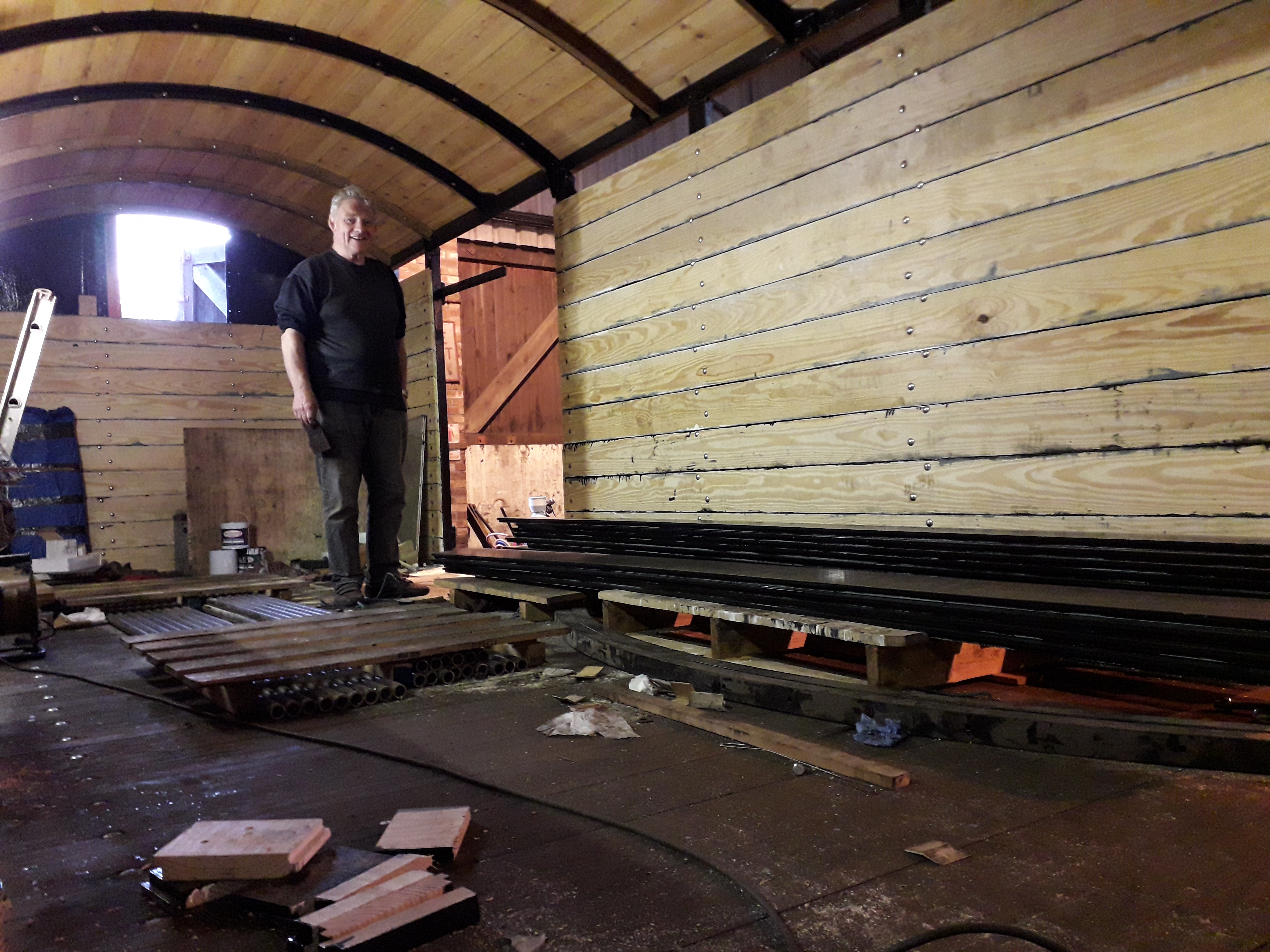 Thoughts have now turned to setting up a small wood machine shop so that we are not
so dependant on outside suppliers. The problem here is that there is nowhere on the DFR to set one up, unless we can be a bit imaginative. Initial thoughts were to fit up a shipping container, but when you look around at the spread of these unrailwaylike, unattractive monstrosities, we looked for a more palatable alternative. It occurred to us, that with the imminent transfer of the society's Collett coach to the DFLG, that here is a space approximately fifty seven feet by nine, so why not in there? As full restoration of the interior is many years away, the plan therefore is to make the coach weatherproof and to repaint the exterior to make it presentable, and install some basic
woodworking machinery. So if anyone knows of, or can supply (cheaply) things like circular saw benches, bandsaws, planers, router tables etc, then please contact the DFLG. As we move toward rebuilding the coaches these things will become essential.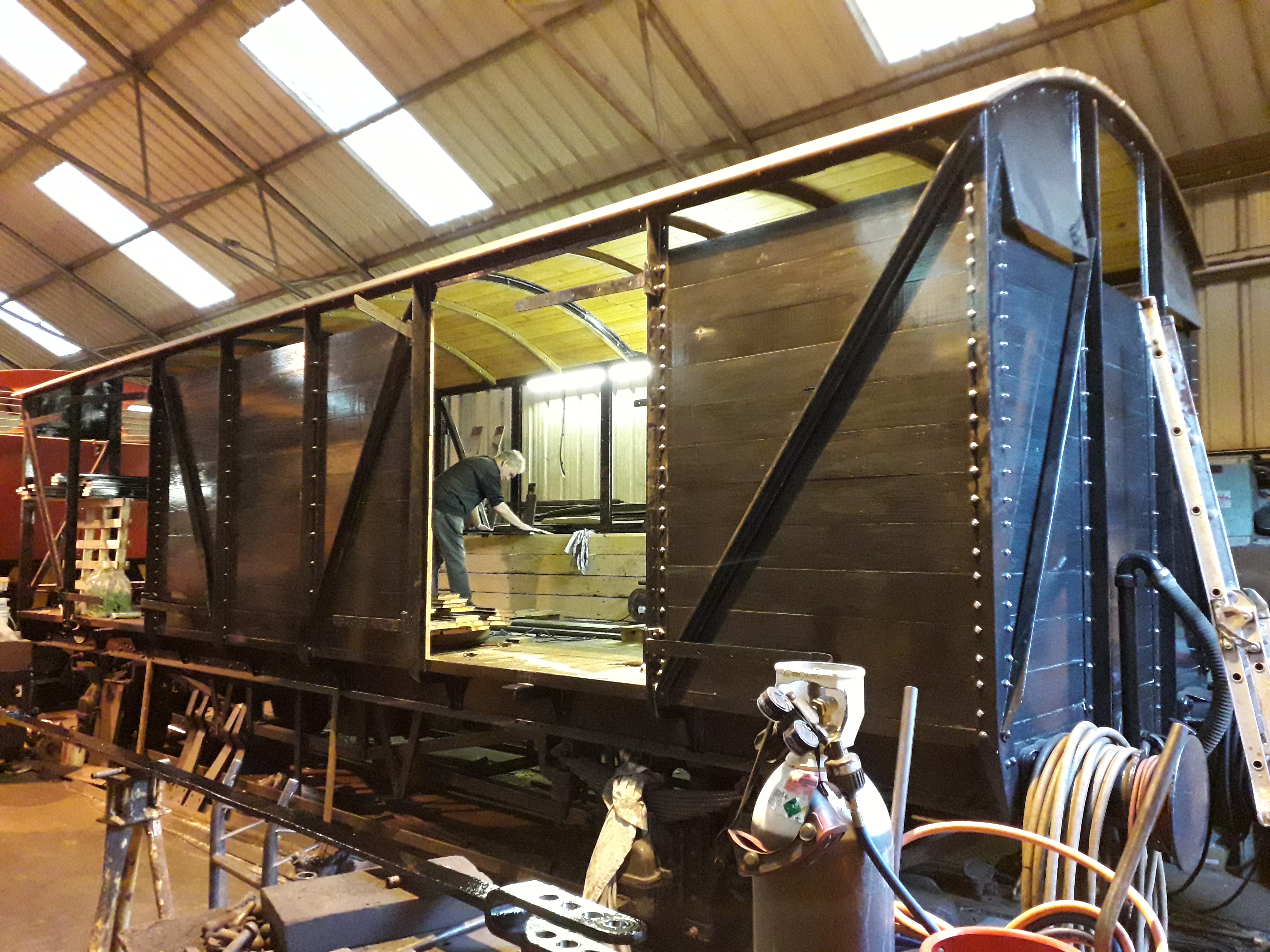 Another problem that needs addressing urgently is the lack of space to do anything. The DFLG has a number of wagons including two GW Opens that are in desperate need of renovation, but nowhere to start the work on site, which is particularly galling as we frequently have to turn down offers of help because we don't have unskilled tasks [like needle gunning/derusting etc]for the casual jobseeker to do.

We have to remind ourselves from time to time why we are doing all this, apart from
personal satisfaction that is:
[1] to provide the DFR with the resources to recreate [A] a GW/WR branch passenger train [B] a GW/WR branch goods train
[2] to show later generations the history of these trains and railways as they used to be as well as giving them a pleasant day out.
Also this history should include relevant infrastructure, such as that rather nice GW lattice mast signal at Parkend, a colour light just wouldn't be right. It is very easy to allow ourselves to be distracted by the need to spend all our time and resources on running and maintaining what we have in front of us and pushing everything else into the background, that is just stagnating and not progressing.
The DFLG has set itself an ambitious and mammoth task, but as everyone knows, the
longest journey starts with the first step, the trick is not to lose sight of the destination. The DFLG has taken the first step to achieve its aims by acquiring the necessary items to enable it to do so. For newly joined members or those who don't know, these are
Three GW/WR steam engines
Two soon to be three GW coaches
Twelve GW/WR wagons
We have started step 2 by restoring one steam engine soon to be two, and two wagons soon to be three. So you see it is good not to be satisfied with the status quo but to have ambition [a bit of drive helps too] with the forgoing in mind, any contributions large or small in manpower, money or materials to the DFLG Rolling Relics Restorations would be very gratefully accepted [after all, everyone knows how important the 3Rs are].
With thanks to D.Phelps for the text and R.Thacker for the photos.